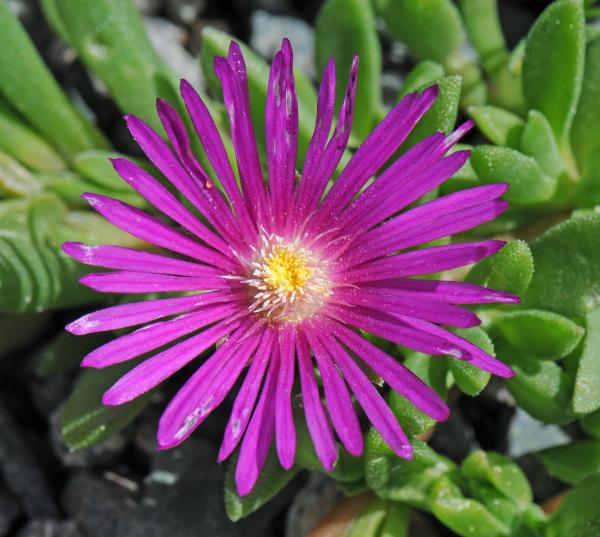 Delosperma 'John Proffitt'
Description and General Information:
This cultivar is more than likely a hardy selection of Delosperma cooperi which is native to South Africa. The cultivar 'John Proffitt' is often sold under the trade name Table Mountain. It was released on the market through Plant Select back in 2002.
This species forms a succulent mat, evergreen in milder areas but semi-evergreen in colder. Plants only reach 7.5 cm tall but can spread 30-45 cm. All summer its produces masses of magenta-pink to fuchsia-pink daisy-like flowers that are about 5 cm across.
Cultivation:
This species requires full sun and sharply drained sandy soil. This is especially important in winter as excess winter wet will easily lead to rot. It is not fussy about soil pH. Once established, it is drought-tolerant. Deer and rabbit appear to ignore it but aphids can be troublesome at times. It is hardy in zones 4-8 with the caveat that it needs exceptional winter drainage. It is a wonderful companion for combining with other succulents such as Sedum, Sempervivum and Rhodiola.
Bloom Season:
June to September
Propagation:
This species may be grown from seed, division or cuttings. Seeds may be direct sown and barely covered. At 20 C they will germinate in a couple of weeks. Cuttings are very easy to root anytime during the growing season. Even leaves can be used for propagation. Large mats may also be dug and divided.