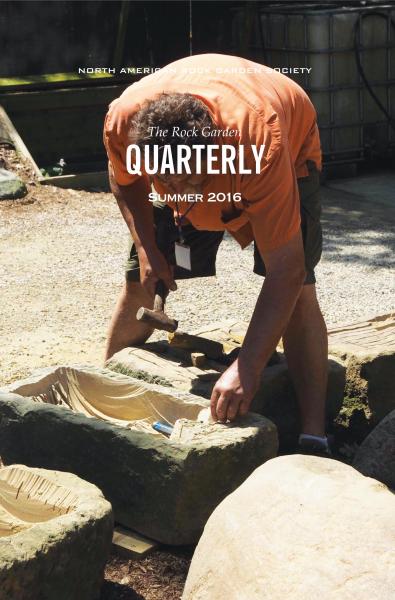 In this first part of her two part article on her Asian travels the author looks at the flora of this remote region, in particular of the Altai and Tien Shan.
Darts Hill is a great garden in Vancouver, BC.garden now run by a trust. A recent NARGS grant enabled the garden to import a collection of saxifrages for planting in a newly-built crevice garden and Pam describes the siting, planning, building,and planting of this new feature.
A survey of thirteen species and their various forms of vacciniums that should find a place in more alpine gardens. These are great plants for the garden with low pH with flowers, fruit and fall color all helping them earn their place.
Few of us actually make our own stone troughs - but Jacques shows and describes just how straightforward the process is. Anyone who attended the 2015 Annual Meeting will have see Jacques demonstrating the process and now all members can read just what's involved.
New intergeneric hybrids are intriguing and this new hybrid between Mukdenia and Bergenia has great potential for the rock gardener.
The lowdown on just how much fun you can have from growing rock garden plants from seed .... and how to do it!
Here the author completes her Asian travels with a visit to the island of Hokkaido.