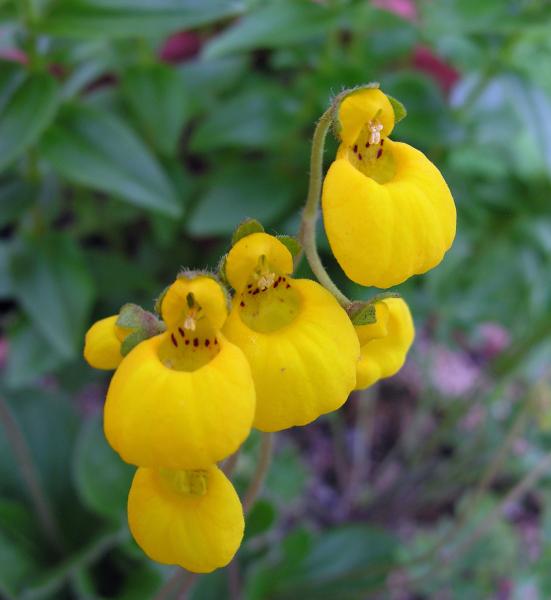 Description and General Information:
This low-growing plant is native to southern Argentina and Chile. Plants from an evergreen rosette of rounded, slightly hairy leaves. Wiry stems to 15-25 cm tall arise in late spring to early summer, each topped with a pair of yellow, pouch-like flowers. Each flower is about 2 cm and lightly spotted in the throat with fine red spots.
Cultivation:
This Calceolaria is quite easy to grow. Provide a moist but well-drained site in part shade (southern areas) to full sun (northern areas). It is surprisingly hardy, to zone 3 with good snow cover, but apt to be short-lived so regular collection of seed is recommended. It prefers slightly acidic soil. While a lovely subject for the shady rockery, it is wonderful as a trough plant where the unique flowers can be best appreciated.
Bloom Period:
April to May in the south but as late as July in the north.
Propagation:
Seed is the most reliable and easy way to propagate this plant. Seeds generally do not require any stratification period. Simply direct sow at about 20 C and germination should commence in a couple of weeks. If there is no germination after a month, then try giving them 6 weeks at 4 C. Large clumps may be dug and divided after flowering.