The Book of Little Hostas: 200 Small, Very Small, and Mini Varieties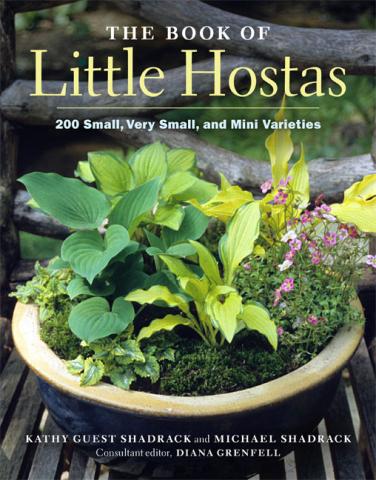 Whether you are an amateur hosta grower or a seasoned veteran, this book will provide you with a comprehensive look at all aspects of selecting and growing the smaller hostas.
The first chapters of the book cover, in detail, soil preparation and site selection for your hostas, and the various types of mulches recommended for these plants. Information on watering, fertilizing, overwintering, pests and diseases are covered, as well as how to best label and map these small gems.
The bulk of the book lists cultivars that are recommended for a variety of environments, from raised beds, rockeries, screes, woodland settings, container plants and edging plants to any other site you could think of to grow hostas. Included with each type of growing condition are close-up images of the cultivars with descriptions of the leaf type, size and general cultural information.
Following the cultivar section, there is a chapter which describes companion plants for your hostas: dwarf conifers, trees, shrubs, perennials and mosses are listed, as well as suggestions for how to display them.
Lastly, there are several sections for the hosta collector. One section describes the many series of hostas and the sports associated with those series. Another section on where one can purchase hostas for the garden includes nurseries in the United States and abroad.
The Book of Little Hostas is definitely a must-have for all who want to pursue growing small hostas. From the cultural tips to the extensive list of cultivars, this book has all the information needed to grow these increasingly popular and endearing small hostas.
Carole Bordelon is curator at the United States National Arboretum and a member of the Potomac Valley Chapter of NARGS.