The Opinionated Gardener: Random Offshoots from an Alpine Garden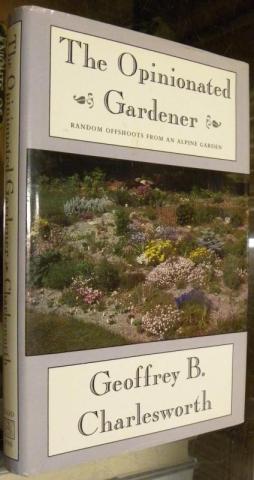 The Opinionated Gardener: Random Offshoots from an Alpine Garden, Geoffrey Charlesworth, David R. Godine Publisher (May 1, 1987); 196 pp, hardcover: publisher's price: NA; Amazon price: $19.95 (& up). 
It is a rare pleasure to revisit a beloved book. It is even better when that book fulfills everything good you remember about it and even a little bit more. Geoffrey's work is eminently worth revisiting. As soon as I cracked open the first chapter I found myself transported again by his inimitable voice. His carefully crafted words and thoughts are as pertinent today as when he wrote them down over twenty years ago.
I had forgotten how extensive was the range of this book. For beginners and advanced plantspeople alike, there is solid information on choice species and the art and science of growing them. And there is so much more. He gives us lessons in Latin, many in verse, and he constructs an unforgettable "key" of his own to pin down your plants. In these pages Geoffrey revealed so much of himself. He reveals his allegiance to alpine plants quite early on, making it easy to settle in for the ride. We see him as a mathematician as he uses his scholarly journals to mulch a new woodland path. He reveals himself as a painter when he dives deep into the subject—and language—of color.
Those among us who knew the man knew of his seed-sowing passion; here in The Opinionated Gardener he gives us a grand tour of his obsession. His humanity comes through on subjects such as garden-visiting etiquette and on giving and receiving gifts. It is patently clear that he has studied his plants up close and all year round. He is often, just slightly, self-deprecating, which in a way makes him not so opinionated a gardener after all. My favorite chapter has got to be "Planting Out" from start to finish. I won't spoil your reading by describing it, but I dare any gardener to fail to see themselves and to laugh out loud.
So many garden books, however well researched, are just that, researched: dug out of someone else's knowledge. This book is not that. Everything in this book is his, and springs hard-won from an impressive wealth of experience, not to mention warmth and humor. That he truly loved the activity of gardening in all its aspects becomes crystal clear. There is a gift for us embedded in his words, and it is this: his love for gardening is contagious.
Though out of print, this book can be tracked down online (see Amazon.com or www.bookdepository.com). Published by David R. Godine, it won the Quill and Trowel Award (Garden Writers of America) and was named in Horticulture Magazine as being in the top 100 garden books. It is gloriously illustrated with drawings by Laura Louise (Timmy) Foster. It belongs on every gardeners' bookshelf.