THE GARDEN AWAKENING: Designs to Nurture Our Land & Ourselves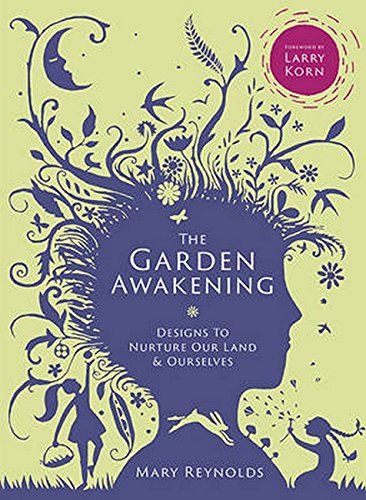 THE GARDEN AWAKENING: Designs to Nurture Our Land & Ourselves
by Mary Reynolds Green Books, 2016. available in hardcover, paperback, e-book, and PDF
When I was a young educator, a visionary book about no-till agriculture inspired my design of Cornell's first interdisciplinary writing seminar, "Ecosystems & Ego Systems," a course that stimulated my students' thought and essays for nearly a quarter century. My students went on to found the Cornell Greens, join Kyoto!Now, convince departments to switch to recycled paper before that was common. The Garden Awakening is a similarly powerful example of long-range thinking that combines natural philosophy and practice. Aiming to restore health and respect for the land—one vibrant piece of ground at a time—seven years after its publication, Mary Reynolds' divine book is still top title at Green Books, environmental publishers for over 21 years.
The author describes herself as a nature activist, land guardian, and "reformed landscape designer." The full-length movie Dare To Be Wild documents her development into a spokeswoman for the margins, for spaces for wildlife. Her early work in design led her to become the youngest person to create a gold medal winning garden at the Chelsea Flower Show, 2002. Many visitors to that "different way of seeing the world" wept, for it reawakened memories of childhood and family experiences, of wandering in natural places, of a time before widespread chemical agriculture when so much more of our soil was still alive.
"Our mind is our greatest obstacle" (55) says Reynolds, and immediately gives methods to bypass its interference. Her elements of garden design might include a night place, a wishing place, and necessaries like spaces for kids, for the clothesline. A person might create a garden for healing, for creativity, to connect with ancestors, to work with no-dig permaculture that restores the soil's micro-organisms and mycorrhizae. For Reynolds, more important than plan is intention, which depends on attentive observation in order to form an alliance with the land, which is a living being. In "ecosystem planting schemes," you learn as you go. That said, the book is packed with detailed drawings, complete integrated designs, for gardens small, medium and large—with or without trees.
'The Forest Garden,' longest of the book's four sections, outlines and describes the steps and stages of creation, supplemented with botanical charts with, for example, nutrient-accumulator keys: specific minerals each plant brings to the topsoil, and also for various conditions: think swale, shelterbelt. You'll also find cultivation tables for the forest's layers: canopy trees, nitrogen-fixing or fruit-producing shrubs, plants for groundcover, underground plants, climbers and vines. It's a joy to read her instructions for making Hügelkultur raised beds and other topics, to understand that we don't need special training to, for example, design a complete woodland ecosystem in a small space.
Want to try something new for slug control? Make a hormone rooting powder? Consult the section "Alternative Management Practices," where there are recipes and remedies: natural insecticides, plant tonics, and more. You can replace grass with low-maintenance alternatives: plant "winter-hardy evergreen white clover" or, if you've shade, choose one of her two recipes for multiplying moss.
Infused with a curiosity willing to integrate technology with biodynamic growing methods, Mary Reynolds has located and voiced not all the old ways but the best of them. Her annotated bibliography of Resources for further learning and/or sourcing has a Natural Farming section devoted to Masanobu Fukuoka, the ornery farmer whose strategies for cooperation with nature were recorded in the book I assigned my students, The One-Straw Revolution. That book was edited by his student Larry Korn, who later wrote his teacher's biography—as well as the Foreword to this book under review!
A useful refresher for the experienced, an introduction for those new to land management, The Garden Awakening is also a joy to the eyes: magically illustrated by Ruth Evans, equipped with a lovely cloth bookmark, and not too heavy yet hefty enough to lie flat for easy reference and a good view of the intricate shapes of Reynolds' numerous possible garden plans. Plans for beauty—as well as reversal of severe habitat loss that threatens biodiversity—eloquently written by a guardian of the wild life and the wild nature of our world.
Author and eco-activist Mary Gilliland of Ithaca NY is the author of two award-winning collections: The Devil's Fools (Codhill Press 2022) and The Ruined Walled Castle Garden (Bright Hill Press 2020), with poems anthologized recently in Wild Gods: The Ecstatic in Contemporary Poetry and Prose. She is a past recipient of the Stanley Kunitz Fellowship from the Fine Arts Work Center and a Cornell University Council on the Arts Faculty Grant. Forthcoming poetry includes In the Pool of the Sea's Shoulder (Dancing Girl Press 2023) and Ember Days (Codhill Press 2024). https://marygilliland.com