Founding Gardeners: The Revolutionary Generation, Nature, and the Shaping of the American Nation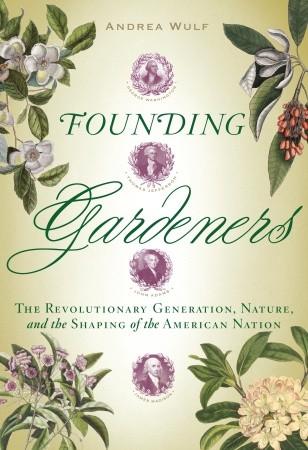 Politics and horticulture may seem unlikely bedfellows, but in Founding Gardeners, Andrea Wulf makes a convincing argument that America's founding fathers' passion for agriculture and gardening played a significant role in founding the country. Throughout the text she interweaves highlights of the political events of the time with the horticultural and agricultural issues also on the minds of the key players.
For example, on the eve of the British invasion of New York City, when the British forces numbered one and a half times the entire population of the city, George Washington took time off from battle preparations to write a long letter to his estate manager describing the trees he wanted to have planted at Mount Vernon, his plantation in Virginia.
Similarly, frustrated with stymied trade negotiations in London after the Revolutionary War, Thomas Jefferson and John Adams set off for a whirlwind tour of British gardens.  What delighted them most was their realization that the world-famous "English gardens" were heavily populated with American native plants. They reveled in the irony that these gardens were, in fact, "American."
Perhaps most intriguing is Wulf's conviction that a particular garden changed the tide of American history. Weary of the contentious debate over state representation at the Constitutional Convention in 1787, James Madison, Alexander Hamilton, George Mason, and five other delegates broke for a field trip to botanist John Bartram's renowned nursery and garden just outside Philadelphia. Wulf writes, "In Bartram's garden, the delegates could see how the manifold flora of each state thrived together, their branches intertwined in a flourishing horticultural union." Two days later the Connecticut Plan, a compromise proposal for state representation, passed by a narrow margin. The deciding votes were cast by three delegates who changed sides after their "three-hour walk on a cool summer morning among the United States of America's most glorious trees and shrubs."
Through these and other anecdotes, Founding Gardeners offers an original, insightful look at the characters and passions of the men who shaped our country. Wulf's colorful prose, superb research, and driving narrative make for an engrossing read that will give you new appreciation for horticulture's influence on history.