Adventures in Eden: An Intimate Tour of the Private Gardens of Europe.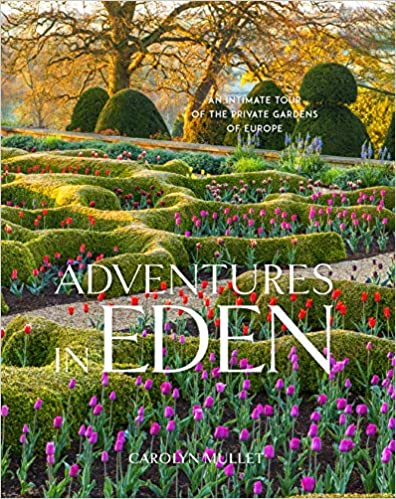 Adventures in Eden: An Intimate Tour of the Private Gardens of Europe.
by Carolyn Mullet, Timber Press, Portland, 2020. 332 ppg. $40.00 list, $19.28 Amazon
Start your holiday gift list now...especially if you pick up a little something for yourself. Carolyn Mullet has put together a splendid book to plant under any garden lover's tree. Mullet, familiar to many online gardeners because of her robust social media presence, is also owner of Carex Tours, a garden tour company, and so is a logical person to have put together Adventures in Eden: An Intimate Tour of the Private Gardens of Europe.
Adventures visits the gardens and gardeners of eleven of the Old World's countries/ regions, and showcases 50 gardens. Most you will not have seen before. All the gardens are private, but open to the public at least part of the year. Hence the beauty of Mullet's approach: we are presented with a slate of wonderful gardens we do not know, but can visit if we are so inclined. There is bucket list material aplenty, with a wide variety of style, a complete range of design formality, and varied levels of maintenance.
The perfect antidote to a travel-less year, the book is lavishly illustrated with hundreds of photographs by dozens of garden photographers. You can read and look, or just play garden voyeur and peruse the pictures. This makes it a great book to come back to time and again. A comfortable chair, a good drink, and you won't even remember you haven't left home.
England, Scotland, Ireland and Wales are particularly well-represented and account for nearly half the book. This is a blessing and a curse. A blessing because the gardens are extraordinary. A curse because UK gardens and style are the most familiar to gardeners in the United States.
The real beauty of the book lies in its selections—even the UK gardens aren't necessarily those that spring immediately to mind. Most will be new and welcome additions to the canon.
Its magic is worked best, however, when we visit Scandinavia, Germany, The Netherlands, Belgium, Spain, France and Italy. Most of these countries are woefully underrepresented in garden literature, and even those that might be familiar are made new by including gardens that aren't known as other picks might have been.
Each of the gardens is introduced by a page or so of text that artfully weaves an introduction to the garden, the owners/gardeners, history, style, the making of, and other pertinent information—without falling into the traps of other "garden visitation book" tropes. The selections are well written and unfailingly interesting. Website addresses for the gardens are included in an appendix so that additional information about the garden and visitation can be found.
Time will tell whether Mullet saved the rest of Europe for another volume (before moving on to Asia, Australia....). For what she did manage to cover, she says, "I hope that readers will see the book as a somewhat idiosyncratic overview of the state of private garden design in Europe in the early twenty-first century, where size or status has had nothing to do with the choices, but passion, plantsmanship, and creativity has meant everything."
Don't even bother to wrap it.
Carlo Balistrieri is a botanical garden professional and former curator of the Rock Garden at The New York Botanical Garden. He spreads the gospel of gardening via his photographs and writing. He posts daily on Instagram at: carlobalistrieriphotography. His photography website is: www.carlobalistrieri.com; other work and his consulting practice can be found at www.botanicalgardening.com.