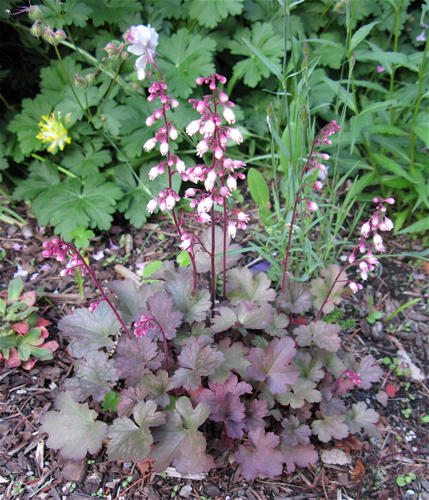 What do you want in a plant? I believe if you took a survey you would find the top 4 items would be:
Pest-resistant
Drought-tolerant
Can stand either sun or shade and
Has many colors.
Heuchera (Coral Bells) would fit these critera. To top this off, breeding programs have just exploded to make this plant even more desirable.
Rock gardeners have also been included in this explosion due to the miniature varieties also being added. Two of the small varieties that are hardy in Zone 4 are Heuchera cylindra and Heuchera 'Petite Pearl Fairy'.
Coral bells really grow in good soil with lots of organic matter but don't plant them too deep. Never put crown in the soil. Fertilizer will also give the foliage more color. Coral bells make great trough plants because they don't have aggressive root systems. This will also let you try some of the less tolerant to cold varieties.