There is the traditional method of fashioning styrofoam boxes to look like troughs: In a nutshell, a chosen form's surface is roughened in whatever fashion by physically scratching and gouging with a favorite tool, the purpose of which is to mimic natural rock or whatever is desired. The surface is heated to solidify the roughened exterior and prepare it for painting, and then painted. But let the specifics of this method be for another topic. Here I want to show some newer ideas that have emerged since Ian Young first invented the very versatile styrofoam trough concept.
First, some photos of troughs done via the traditional method for comparison. Still the most realistic method, in my opinion, but it is a bit messy to execute, and more time consuming compared to the ideas to come.
Now some styrofoam troughs made in the "traditional" manner:
Some members in our Chapter have experimented a little, and come up with a couple time saving and less mess alternatives.
The first is invented by Julie. She has access to styrofoam boxes used for transport of medical vaccines, live organ transplants, etc. These are thicker than the traditional fish boxes, and they allow her to incorporate that quality into her method.
Rather than manually texturing the surface, her idea is to use the heat gun to create depressions in the styrofoam walls by heating (and shrinking) some parts more than others. The method is super quick, and there is absolutely no mess. Once done, it is ready for painting.
Another Chapter member, Ev, came up with this idea: she uses an old iron to initially melt the desired "pattern" into the styrofoam before a quick brushing with a wire brush. Then she uses the heat gun in the traditional manner to ready the box for painting.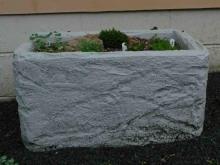 ------------------
So what do you all think? Of course, no one has a monopoly on inventions, and someone else could have independently come up with the same ideas just described. Undoubtedly, there have been other experiments tried. Who would like to share their thoughts, successes or failures?