Timber Press Pocket Guide to Conifers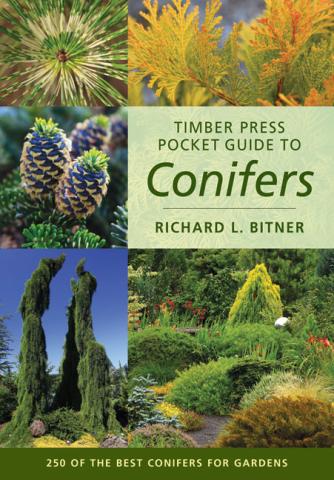 Timber Press Pocket Guide to Conifers, Richard L. Bitner (250 of the Best Conifers for Gardens), Timber Press (June 30, 2010), 224pp, 304 color photos; softcover; publisher's price: $19.95; Amazon price: $14.26.
This pocket guide is intended to help gardeners in selecting desirable and appropriate conifers. It is based on Conifers for Gardens, an Illustrated Encyclopedia that Bitner wrote in 2007. More than half of the 306 high-quality photographs found in this pocket guide were used in that book. Most of the text has also been expropriated verbatim. As the author qualifies, the book is not intended to be a botanical or taxonomic guide.
Now...as to the selections. After reading the book carefully and comparing his list with varieties found in other books on conifers, conifers I'm familiar with, and nursery sources online, I've concluded that rather than representing "the best" conifers for the home garden the book represents a sampling from the author's extensive collection of images. Some stunning varieties are not even mentioned, such as Pinus contorta 'Chief Joseph'.
Both here and in the Encyclopedia, the emphasis is on taxa found in northeast gardens. Largely absent are conifers suited for the West — e.g. no Pinus monticola, that defining subalpine conifer. Likewise, many conifers from the Southern Hemisphere and Asia that are sold as garden material are not mentioned.
There are some regrettable errors: On page 31 the image labeled Abies concolor 'Wattezii' is actually A. concolor 'Winter Gold'. On the same page, the cones of Abies koreana are not typical — A. koreana female cones are 2-3 in. tall, narrow and elongate, and unforgettably blue-purple — there are never tufts of needles at the top of the cone as in the example shown. Calocedrus decurrens 'Maupin Glow' is described as "a yellow-tipped form," which I understood as having yellow new-growth tips. Actually 'Maupin Glow' is yellow at the top of the plant and green at the base. On page 46 Cedrus deodora 'Golden Horizon' is incorrectly labeled — 'Golden Horizon' is a prostrate, not upright, variety. On page 110 the Larix decidua 'Varied Directions' shown is, I believe, L. decidua 'Pendula'. I've grown this cultivar and my untameable plant was more like a living brush pile. ('Varied Directions' was selected by Dr. Sid Waxman at the University of Connecticut — for a good image go to their site.)
Inexplicably, Ginkgo biloba is included. According to The Gymnosperm Database this monotypic genus is not in the Phylum Pinophyta but rather in the Phylum Ginkgophyta. (Ginkgo has no hardened reproductive structures characteristic of conifers — the fleshy female "fruit" is actually an entire naked seed, called a spermidium.) But no members of the Podocarpaceae are included.
For alpine gardeners who might be interested in seeking out dwarf conifers or miniatures for their rock gardens or troughs, innumerable possibilities are missing — no Abies balsamea 'Jamy'; noChamaecyparis obtusa 'Bronze Beauty', 'Lemon Twist', or 'Stoneham'; no Picea abies 'Gem' or 'Thumbelina', etc.
What this book required was a better-defined focus of its intent and certainly better editing.
Before retirement Frances Burr was a research botanist in plant genetics.  She is a member of the Manhattan Chapter of NARGS and gardens on Long Island.