Our first hike of the year was on July 16th, and since many of our favourite areas are still inaccessible due to washed-out bridges, we tried a new one... Rockbound Lake in Banff N.P..
This photo tour will be mostly scenery shots of this very beautiful area.  I didn't take many plant shots at all -  it was pretty early up there and this area seems much less floriferous than our favourites.  The forest walk up is closed in, without views, and while there was a scattering of all the expected species, there didn't seem to be a great density of any species present in particular areas or in flower at this time.
End of the hike - Rockbound Lake and surroundings; high water mark shown by yellow pollen; Eisenhower Tower standing out from the cliff face:
Saxifraga bronchialis; a few very small Saxifraga oppositifolia, still in bloom; a few Anemone parviflora; was relieved to find a couple of Silene acaulis, while scouting around the lake a little!; Androsace septrentrionalis: 
Canyon at the head of the outflow stream; looking out on the valley... our original intent was to cross the stream visible in the distance and go up Helena Ridge to the left, however we couldn't find a place to cross without getting very wet boots so we abandoned that plan and hiked to the lakes instead.  The meadows would probably be nice for flowers in a few days.
Heading down, here is Tower Lake, down the steep trail from the cirque in which Rockbound Lake sits: 
A lovely spot along the trail where water seeps out through a moss-covered bank - a nice setting for colonies of butterworts (PInguicula vulgaris):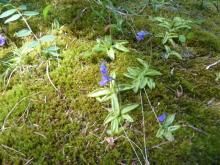 Twayblade orchids were quite common along the trail through the forest (my pictures are too fuzzy to ID the species!):